Arduino Based Automatic Disinfectant Sprayer For New Normal Classroom
Penyemprot Disinfektan Otomatis Berbasis Arduino Untuk Ruang Kelas Era New Normal
Keywords:
Disinfectant Sprayer, Arduino, New Normal, infectious disease
Abstract
Covid-19 is an infectious disease that attacks the respiratory system caused by the corona virus found in 2019. It spread all over the world and declare as a pandemic by the WHO. Thus, also affect Indonesia. One way to prevent the spread of Covid-19, especially in the closed public area, is by spraying disinfectant. This study aims to design an automatic sprayer that could prevent Covid-19 spread in the classroom and used automatically. The system using an Arduino UNO microcontroller. The disinfectant sprayer design to work automatic that will reduce the need for an operator. The tool works well as the system can automatically spray disinfectant to the classroom. Moreover, the automatic sprayer arranges according to the class timetable. However, the system cannot work outside the class timetable, such as additional classes needed.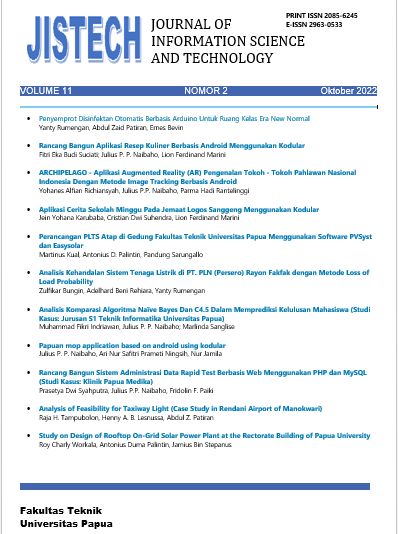 Downloads
License
Copyright (c) 2022 Yanty Rumengan, Abdul Zaid Patiran, Ernes Bevin
This work is licensed under a Creative Commons Attribution 4.0 International License.