Papuan mop application based on android using kodular
Aplikasi mop papua berbasis android dengan menggunakan kodular
Keywords:
Android, Kodular, Firebase, Aplikasi Mop, Mop Papua
Abstract
Mop is a Papuan humorous story that satirizes and laughs at the habits of the Papuan people of various ethnicities, ages, professions, and economic status. If the Indonesian people are more familiar with the term stand-up comedy, the mop can be said to be similar to the comedy style. It's just that the mop uses a Papuan accent. The purpose of this research is to design an android-based application which can introduce Papuan mops to all Indonesian people in order to attract their attention that Papua has an entertaining hereditary culture. The development of technology in this era is so rapid that it spreads to various aspects of life. One of them is the world of entertainment. Where technology greatly facilitates access to entertainment at this time. This research is a form of applying the Papuan mop so that it can be used as an entertainment media that is more accessible and at any time. This application is built using kodular and uses a firebase database. The design is made using use case diagrams, activity diagrams, class diagrams and use case scenarios. The testing technique used is black box testing. The Papuan mop application that is designed consists of 2 types of users. User type admin and visitor. The menu options available are read cheats, add cheats, delete cheats, change passwords, give testimonials and read testimonials.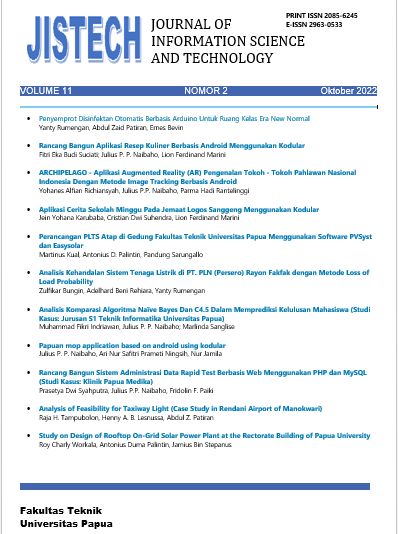 Downloads
License
Copyright (c) 2022 Ari Nur Safitri Prameti Ningsih, Julius Naibaho, Nur Jamila
This work is licensed under a Creative Commons Attribution 4.0 International License.