Applications for Sunday School Stories at the Sanggeng Logos Congregation Using Kodular
Aplikasi Cerita Sekolah Minggu Pada Jemaat Logos Sanggeng Menggunakan Kodular
Keywords:
Kodular, Aplikasi Android, Cerita Bergambar, Sekolah Minggu
Abstract
Protestant Christian education is one of the basic needs of children where at this age children like to play and explore the surrounding environment. There are three learning styles in children, namely auditory, visual and kinesthetic. This is what can be utilized with the use of smartphones because it can provide applications that can apply the learning styles that have been mentioned. With the aim of creating learning media in the form of illustrated stories based on bible stories based on android applications aimed at Sunday school children of the Logos Sanggeng congregation. The author conducted research using the waterfall method in developing Sunday school story applications by utilizing Kodular tools. This study resulted in an application that can be used as an educational medium for children and Sunday school teachers with a learning concept that is easy to understand because it is based on illustrated stories that are very close to children's characters. Sunday school applications are also very easy to learn by children and Sunday school teachers, because the application has an easy-to-learn interface. Application testing is carried out using the black box method on each function with successful test results.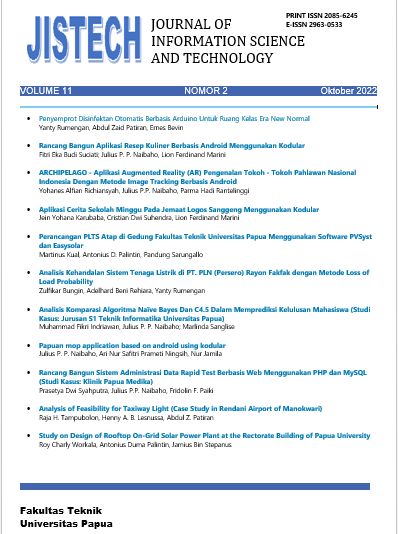 Downloads
License
Copyright (c) 2022 Jein Yohana Karubaba, Cristian Dwi Suhendra, Lion Ferdinand Marini
This work is licensed under a Creative Commons Attribution 4.0 International License.