DETECTION OF MALARIA IN MICROSCOPIC IMAGES OF BLOOD CELLS USING IMAGE SEGMENTATION
PENDETEKSIAN MALARIA DALAM CITRA MIKROSKOPIS SEL DARAH MENGGUNAKAN SEGMENTASI CITRA
Keywords:
malaria, plasmodium, segmentation
Abstract
There are four species of the Plasmodium parasite that can cause malaria in humans, plasmodium falciparum, plasmodium vivax, plasmodium malariae and plasmodium ovale. In human body, parasite plasmodium live and growth in heart then infected red blood cell and finaly caused malaria diseases. Convensionally, malaria detection is looking human blood using microscope. Conventional malaria detection do not support in analyzing paracite plasmodium because conventional malaria detection do not record the result of visual data. Today malaria detection is develop with analyzing microscopic image blood cell. Microscopic image is an image that recorded from microscope when looking blood cell. The colour of Parasite plasmodium object in microskopic image has different intensity with red blood cell. The different of their colour intensity be the key to detected the parasite plasmodium in microskopic image. In this research, the writer try to make an application to detecting and counting parasite plasmodium in microscopic image using image segmentation technic.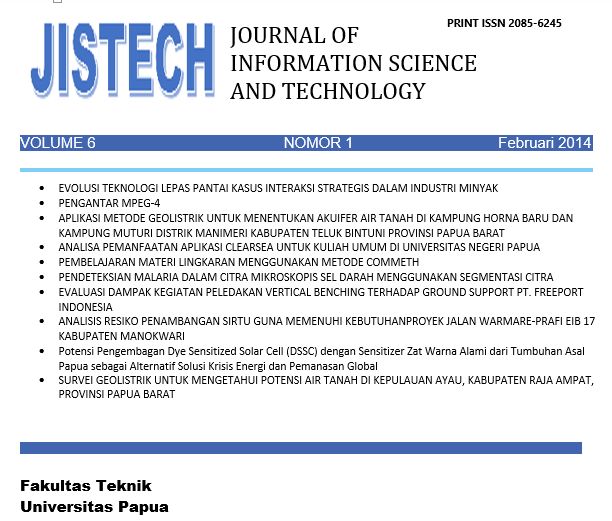 Downloads
How to Cite
Naibaho, J. P. P. (2023). DETECTION OF MALARIA IN MICROSCOPIC IMAGES OF BLOOD CELLS USING IMAGE SEGMENTATION: PENDETEKSIAN MALARIA DALAM CITRA MIKROSKOPIS SEL DARAH MENGGUNAKAN SEGMENTASI CITRA. JISTECH: Journal of Information Science and Technology, 6(1). Retrieved from https://jurnal.unipa.ac.id/index.php/istech/article/view/148
License
Copyright (c) 2023 Julius Panda Putra Naibaho
This work is licensed under a Creative Commons Attribution 4.0 International License.