EVALUATION OF THE IMPACT OF BLASTING ACTIVITIES VERTICAL BENCHING OF GROUND SUPPORT PT. FREEPORT INDONESIA
EVALUASI DAMPAK KEGIATAN PELEDAKAN VERTICAL BENCHING TERHADAP GROUND SUPPORT PT. FREEPORT INDONESIA
Keywords:
Metode C.J Konya, fly rock, ground support.
Abstract
One of the tunnel excavation method on underground mine Grasberg Block Caving method heading and bench, the size of the tunnel were observed (width, m x height, m) 6.8 x 6 (headings) and 6.8 x 3 (bench). After the excavation is done on a heading followed by the activities of ground support, then do the blasting vertical benching. Blasting activities can give bad impact among others fly rock and an excessive burst of energy that could damage ground support on drift back. Ground support is used namely splitset, wire mesh, threadbar and cable bolt. The geometry of the blasting is applied on the area of Grasberg And Drift 5 and 7 (exhaust) the burden of 1.75 m, spacing 1.40 m, height 3 m, benching depth hole explosive 4 m with a slope of 50 and 150, field 2.1 m, 0.8 m, drilling sub powder factor of 1.14 kg/m3 and stemming is not used. The draft of the proposed blasting, based on prediction method using C.J. Konya and Berta G produces a range of fly rock 2.61 m and energy blast 40,24 MJ.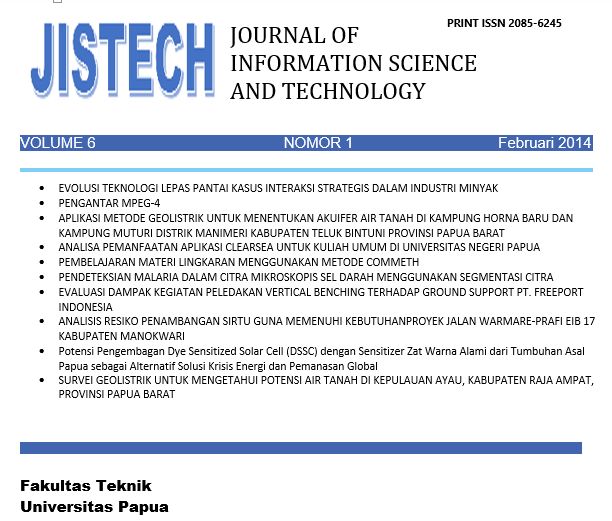 Downloads
How to Cite
Sirwutubun, Y. B. ., Triyanto, B. ., & Horman, J. R. . (2023). EVALUATION OF THE IMPACT OF BLASTING ACTIVITIES VERTICAL BENCHING OF GROUND SUPPORT PT. FREEPORT INDONESIA: EVALUASI DAMPAK KEGIATAN PELEDAKAN VERTICAL BENCHING TERHADAP GROUND SUPPORT PT. FREEPORT INDONESIA. JISTECH: Journal of Information Science and Technology, 6(1). Retrieved from https://jurnal.unipa.ac.id/index.php/istech/article/view/150
License
Copyright (c) 2023 Yulius B. Sirwutubun, Bambang Triyanto, Juanita R. Horman
This work is licensed under a Creative Commons Attribution 4.0 International License.