APPLICATION OF THE GEOELECTRIC METHOD TO DETERMINE THE GROUNDWATER AQUIFER IN HORNA BARU VILLAGE AND MUTURI VILLAGE, MANIMERI DISTRICT BINTUNI BAY DISTRICT WEST PAPUA PROVINCE
APLIKASI METODE GEOLISTRIK UNTUK MENENTUKAN AKUIFER AIR TANAH DI KAMPUNG HORNA BARU DAN KAMPUNG MUTURI DISTRIK MANIMERI KABUPATEN TELUK BINTUNI PROVINSI PAPUA BARAT
Keywords:
Geolistrik, chlumberger, Resistivity,, Res2dinv, Aquifers, Groundwater
Abstract
Geolistrik is one of the geophysical method used in shallow exploration. In working principle of the method geolistrik is studying the flow of electricity in the Earth, and how to detect it at the Earth's surface. This research aims to determine the water bearer layer, layout and depth as well as the type of aquifer groundwater Kampung Horna Baru and Kampung Muturi District Manimeri District of West Papua Province Bintuni Straits Bay with the method of resistivity (Resistivity). Resistivity method based on Ohm's law, aims to find out the type of coating the rocks based on the distribution of the resistivity value on each layer. Data measurement results in the field of potential noun and current can be used to calculate the price of a pseudo resistivity. After pseudo resistivity value obtained then incorporated into the software, and data res2dinv spaced electrodes and data datum points for knowing the value of resistivity, the RMSE and depth of each layer with a 2D model are vetically through a process of inverse. Geolistrik research results indicate that the aquifer groundwater Kampung Horna Baru and Kampung Muturi District Manimeri district of Bay of Bintuni Straits, has a varied range of resistivity of 0.183 meters% uFFFD Ohm. 3714 Ohm. ft. On tracks 2, 3, 5 and 6 in Kampung Horna Baru at a depth of 4.3% uFFFD 27.1 m. Whereas in Kampung Muturi on tracks 8 and 9 with a depth of 13.1-27.1 m.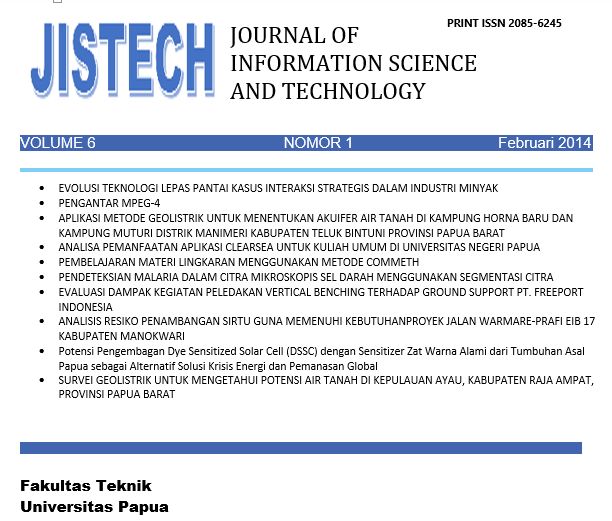 Downloads
How to Cite
Laitupa, K. ., Pangkung, Y. G. ., & Supit, J. M. . (2023). APPLICATION OF THE GEOELECTRIC METHOD TO DETERMINE THE GROUNDWATER AQUIFER IN HORNA BARU VILLAGE AND MUTURI VILLAGE, MANIMERI DISTRICT BINTUNI BAY DISTRICT WEST PAPUA PROVINCE: APLIKASI METODE GEOLISTRIK UNTUK MENENTUKAN AKUIFER AIR TANAH DI KAMPUNG HORNA BARU DAN KAMPUNG MUTURI DISTRIK MANIMERI KABUPATEN TELUK BINTUNI PROVINSI PAPUA BARAT. JISTECH: Journal of Information Science and Technology, 6(1). Retrieved from https://jurnal.unipa.ac.id/index.php/istech/article/view/151
License
Copyright (c) 2023 Karmila Laitupa, Yulius G. Pangkung, Jance M. Supit
This work is licensed under a Creative Commons Attribution 4.0 International License.