RISK ANALYSIS OF SIRTU MINING TO FULFILL REQUIREMENTS FOR THE WARMARE-PRAFI EIB 17 ROAD PROJECT, MANOKWARI DISTRICT
ANALISIS RESIKO PENAMBANGAN SIRTU GUNA MEMENUHI KEBUTUHANPROYEK JALAN WARMARE-PRAFI EIB 17 KABUPATEN MANOKWARI
Keywords:
risk analysis, financial feasibility
Abstract
In order to meet the demand of gravel materials needed for the project of Warmare-Prafi EIB 17 road construction, it was important for Brantas Abipraya company, as the gravel supplier and construction operator, to initially apply a risk analysis. Factors such as operational costs and level of profitability, which was calculated based on the cash flows during the project term, were critically considered in the analysis. Moreover, considering changes of those factors above, financial analysis was also applied through Net Present Value (NPV) method. In the mining activity, excavators were used for both digging and loading. Dump trucks were used in the process of hauling the materials from front locations to crashing plant, and wheel loaders were used in the loading process in the crashing location. According to the project calculation, the volume of gravel material needed for the whole activities during the project was approximately 369,060 m3, which was estimated dealing with road length of 56.736 Km. Due to the fact that the company was acted as the supplier as well as the construction operator, there was no marketing activities on gravel produced. Financing factor or capital which was received by the company was resulted from the value of the project. The minimum interest rate was about 12% per annum. The research concluded that this gravel mining activity was more influenced by changes in profit level than changes in the level of operational costs.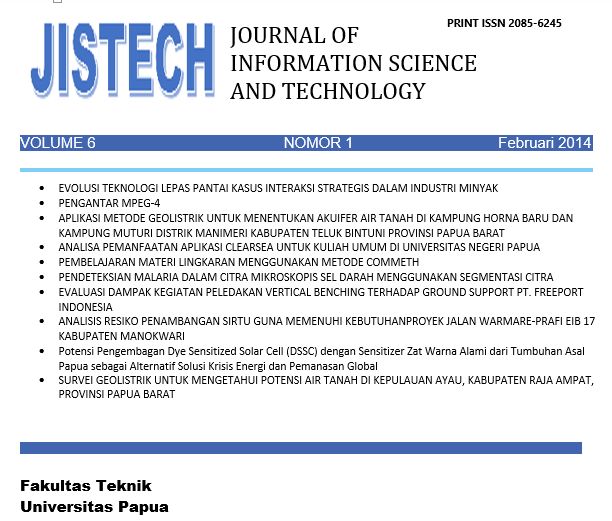 Downloads
How to Cite
Horman, J. R. . (2023). RISK ANALYSIS OF SIRTU MINING TO FULFILL REQUIREMENTS FOR THE WARMARE-PRAFI EIB 17 ROAD PROJECT, MANOKWARI DISTRICT: ANALISIS RESIKO PENAMBANGAN SIRTU GUNA MEMENUHI KEBUTUHANPROYEK JALAN WARMARE-PRAFI EIB 17 KABUPATEN MANOKWARI. JISTECH: Journal of Information Science and Technology, 6(1). Retrieved from https://jurnal.unipa.ac.id/index.php/istech/article/view/152
License
Copyright (c) 2023 Juanita R. Horman
This work is licensed under a Creative Commons Attribution 4.0 International License.