ANALYSIS OF THE USE OF THE CLEARSEA APPLICATION FOR PUBLIC LECTURES AT PAPUA STATE UNIVERSITY
ANALISA PEMANFAATAN APLIKASI CLEARSEA UNTUK KULIAH UMUM DI UNIVERSITAS NEGERI PAPUA
Keywords:
ClearSea, general lecture, intranet, video konferensi, UNIPA
Abstract
The limitation of Universitas Negeri Papua (UNIPA) Meeting Room capacity make general lecture for all students at every beginning of semester was difficult to do since students numbers are six time Meeting Room capacity. The tendency of increasing student' numbers every year and there is no plan to rebuild Meeting Room are some other factors that university have to find a solution. One of the solutions is using Information Technology (IT).ClearSea is one of paid video konferensi application that Unipa bought years ago. By running the server application on intranet and putting all client applications on every faculty meeting room, this application was expected to facilitate UNIPA Rector in given general lecture and be watched by all students from their faculty meeting room. This paper analyzed the pros and cons of ClearSea implementation in UNIPA general lecture.In general, ClearSea can answer the need of general lecture at UNIPA. However, by considering its high price, this application does not have some features that made this application could not give full benefit, such as feature to choose active monitor and thumb monitor for every client.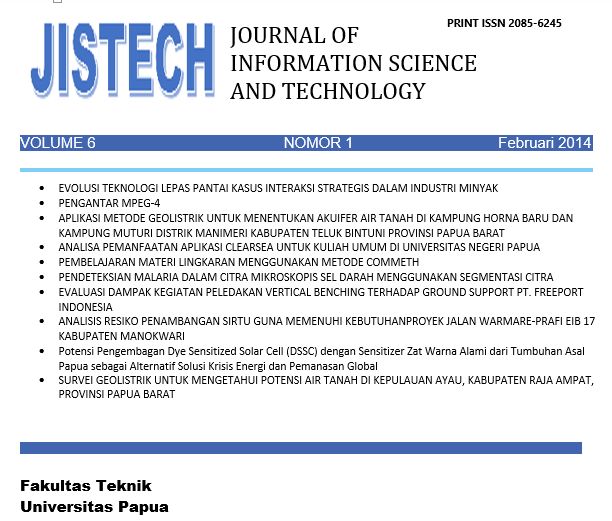 Downloads
How to Cite
Kweldju, A. D. . (2023). ANALYSIS OF THE USE OF THE CLEARSEA APPLICATION FOR PUBLIC LECTURES AT PAPUA STATE UNIVERSITY: ANALISA PEMANFAATAN APLIKASI CLEARSEA UNTUK KULIAH UMUM DI UNIVERSITAS NEGERI PAPUA. JISTECH: Journal of Information Science and Technology, 6(1). Retrieved from https://jurnal.unipa.ac.id/index.php/istech/article/view/153
License
Copyright (c) 2023 Alex De Kweldju
This work is licensed under a Creative Commons Attribution 4.0 International License.