Development of New Student Admission Web-Based Application in Polbangtan Manokwari Using Codeigniter Framework 3.1.7
Pembuatan Aplikasi Penerimaan Mahasiswa Baru Di Polbangtan Manokwari Berbasis Web Menggunakan Framework Codeigniter 3.1.7
Keywords:
Polytechnic of Agricultural Development Manokwari, Polbangtan, Penerimaan Mahasiswa Baru, Ministry of Agriculture
Abstract
Polytechnic of Agricultural Development Manokwari (Polbangtan) is one of the state universities under the Ministry of Agriculture, to carry out the mission of providing agricultural vocational education in the context of agricultural regeneration located in Manokwari, West Papua. Polbangtan already has a website but has not yet served online registration of new students. Even so, in its development, there are more and more prospective new students who are interested in studying or registering at the Manokwari Polbangtan, both from within the province and from outside the province, both those who have just graduated from high school/equivalent and for civil servants in the field of Agriculture. From research conducted in Polbangtan, that with this new student admission application system it will make it easier for the committee to process data for prospective new students in the process of registering new students to the process of admitting new students who are outside the area or inside, and presenting information about new student admissions. can be accessed directly through the media website.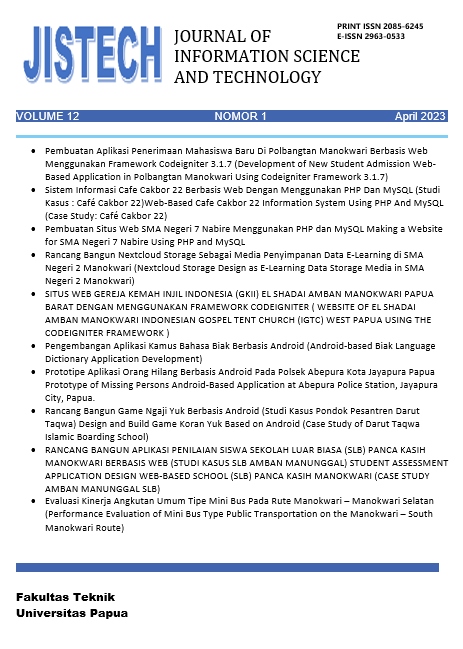 Downloads
How to Cite
Absur, E. S., Naibaho, J. P. P., & Marini, L. F. . (2023). Development of New Student Admission Web-Based Application in Polbangtan Manokwari Using Codeigniter Framework 3.1.7: Pembuatan Aplikasi Penerimaan Mahasiswa Baru Di Polbangtan Manokwari Berbasis Web Menggunakan Framework Codeigniter 3.1.7. JISTECH: Journal of Information Science and Technology, 12(1), 1-18. https://doi.org/10.30862/jistech.v12i1.196
License
Copyright (c) 2023 Julius Naibaho
This work is licensed under a Creative Commons Attribution 4.0 International License.