Web-Based Cafe Cakbor 22 Information System Using PHP And MySQL (Case Study: Café Cakbor 22)
Sistem Informasi Cafe Cakbor 22 Berbasis Web Dengan Menggunakan PHP Dan MySQL (Studi Kasus : Café Cakbor 22)
Keywords:
Sistem Informasi Cafeshop, Web, Promosi/Transaksi, MySQL, Php
Abstract
Cafe Cakbor 22 is one of the cafes that sells various types of drinks and snacks, it is better to have a system to meet the needs of promoting products and simplifying data transactions regarding product data and facilities provided at the café. The current system, both information related to cafes, product promotions and ordering, is still done manually. Customers view, select and order menus through the menu book provided by the waiter. So that this can hinder the development of cafes in the wider community and services that are still less efficient in terms of time. Based on these problems, it is necessary to build an information system that can assist in promoting a product so that it is neater, structured and so that consumers can more easily access everything about Café Cakbor 22. The application development method used is the waterfall method. The system is built using the PHP programming language and MySQL database. With this system, it can assist cafe owners in promoting products online and can help both customers and owners in processing product sales transactions.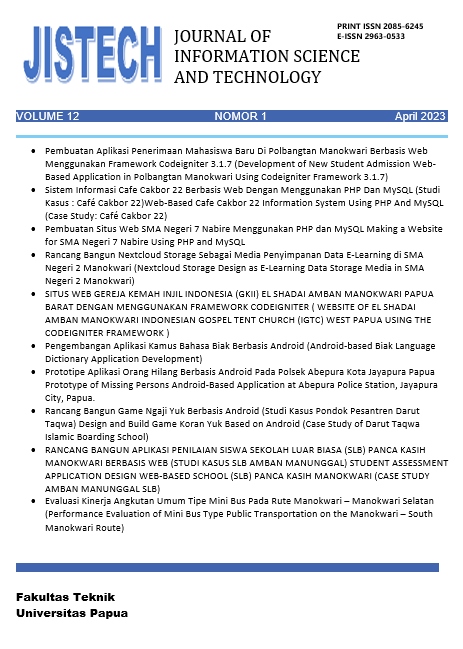 Downloads
How to Cite
Alatubir, A. N. R. ., Suhendra, C. D. ., & Kweldju, A. D. . (2023). Web-Based Cafe Cakbor 22 Information System Using PHP And MySQL (Case Study: Café Cakbor 22): Sistem Informasi Cafe Cakbor 22 Berbasis Web Dengan Menggunakan PHP Dan MySQL (Studi Kasus : Café Cakbor 22). JISTECH: Journal of Information Science and Technology, 12(1), 19-32. https://doi.org/10.30862/jistech.v12i1.197
License
Copyright (c) 2023 Agustinus Nandhito Richard Alatubir, Christian Dwi Suhendra, Alex De Kweldju
This work is licensed under a Creative Commons Attribution 4.0 International License.