Design and Build Game Koran Yuk Based on Android (Case Study of Darut Taqwa Islamic Boarding School)
Rancang Bangun Game Ngaji Yuk Berbasis Android (Studi Kasus Pondok Pesantren Darut Taqwa)
Keywords:
Game Ngaji Yuk, Android, Kodular, Darut Taqwa
Abstract
Darut Taqwa Islamic Boarding School is often used as a place to study the Qur'an for teenagers and children. The teaching system, which is still very traditional, looks very out of date, so I took the initiative to make the NGAJI YUK Game, and there is also a tendency to see students playing games on cellphones that have no benefit. Aside from being a communication tool, this research aims to develop the attractiveness and interest of children to make better use of mobile smartphones for positive things. An educational game application that can help children learn to recognize the basics of Arabic letters and reading.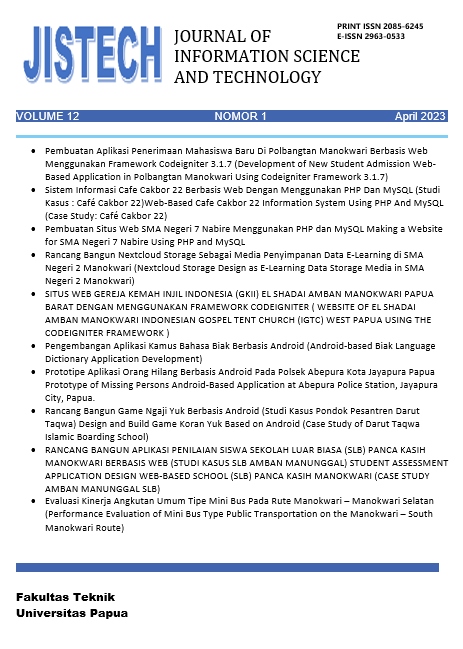 Downloads
How to Cite
Setiawan, T. E. ., Suhendra, C. D. ., & Naibaho, J. P. P. . (2023). Design and Build Game Koran Yuk Based on Android (Case Study of Darut Taqwa Islamic Boarding School): Rancang Bangun Game Ngaji Yuk Berbasis Android (Studi Kasus Pondok Pesantren Darut Taqwa) . JISTECH: Journal of Information Science and Technology, 12(1), 95-109. https://doi.org/10.30862/jistech.v12i1.203
License
Copyright (c) 2023 Tommy Eko Setiawan, Christian Dwi Suhendra, Julius Panda Putra Naibaho
This work is licensed under a Creative Commons Attribution 4.0 International License.