Performance Evaluation of Mini Bus Type Public Transportation on the Manokwari – South Manokwari Route
Evaluasi Kinerja Angkutan Umum Tipe Mini Bus Pada Rute Manokwari – Manokwari Selatan
Keywords:
Kinerja Angkutan Umum, Load Factor, Waktu Antara, Kecepatan, Availability, Waktu Tempuh, Waktu Tunggu, Waktu Pelayanan, Frekuensi
Abstract
Manokwari Regency and South Manokwari Regency are two regencies located in West Papua Province which are quite reliable for having tourism and economic potential. Based on data from the population census of the Central Statistics Agency (BPS) for South Manokwari Regency in 2021, the population of South Manokwari Regency is 35,949 people. Along with increasing population growth and an increase in the economy, the number of trips made by individuals is increasing. Therefore, improving Regency public transport services is absolutely necessary both in terms of time, distance traveled, availability of transportation and service patterns, the level of comfort of public transport itself. This research begins by making observations and collecting data in the field such as:load factor, headway, travel speed,availability, waiting time, service time,frequency, and travel time. The results of the analysis of the performance of public transport on the Manokwari - South Manokwari route, on Mini Bus type public transport are based onload factor an average of 88%,headway an average of 65 minutes, an average travel speed of 41 km/hour,availability average 48%, average waiting time 33 minutes, travel time 2 minutes/km,frequency, an average of 1 vehicle/hour, and an average service time of 13 hours/day. The results of the total performance weight value of the Mini Bus type public transport service obtained only 14 (fourteen) included in the medium category.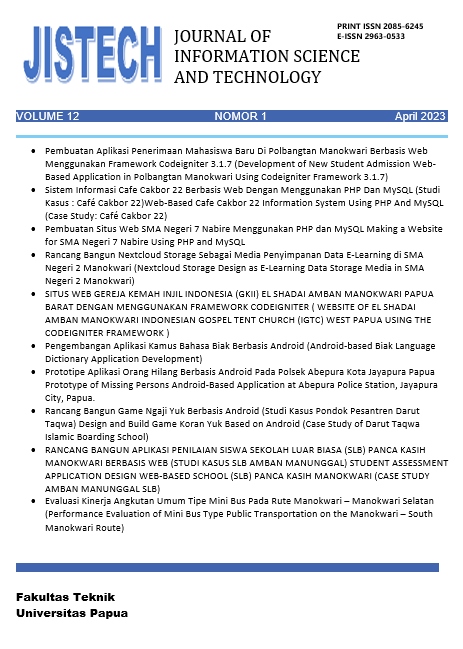 Downloads
How to Cite
Bungin, V. ., Birawaputra, I. ., & Sudarman, S. (2023). Performance Evaluation of Mini Bus Type Public Transportation on the Manokwari – South Manokwari Route: Evaluasi Kinerja Angkutan Umum Tipe Mini Bus Pada Rute Manokwari – Manokwari Selatan. JISTECH: Journal of Information Science and Technology, 12(1), 125-129. https://doi.org/10.30862/jistech.v12i1.205
License
Copyright (c) 2023 Victor Bungin, Indra Birawaputra, Sudarman Sudarman
This work is licensed under a Creative Commons Attribution 4.0 International License.