Structure Design Modification of DPW Nasdem Office Building using Steel Special Moment Resisting Frame
Modifikasi Perencanaan Struktur Gedung Kantor DPW Nasdem Menggunakan Struktur Baja Dengan Sistem Rangka Pemikul Momen Khusus
Keywords:
Gempa bumi, baja, SRPMK
Abstract
Manokwari is a District located at the junction of three main plates forming the earth's crust, namely the pacific plate. This makes Manokwari Regency prone to earthquakes. Therefore, building planning must be designed with the concept of earthquake-resistant buildings. Steel material is one type of material that is often used for planning earthquake-resistant building structures because it has high strength and lightweight properties that it is good for earthquake-resistant buildings. One of the methods often used in the planning of earthquake-resistant steel structures is the special moment resisting frame system (SMRF). This structural system is used because it has full ductility that it can survive in areas with a high earthquake risk. This planning modification was carried out at the DPW NasDem Office building by changing the main structure in the form of reinforced concrete using a steel structure with a special moment resisting frame system (SMRF). Based on the calculation and analysis, the results were obtained, namely: the dimensions of the secondary beam are IWF 300x150x6.5x9, the main beam 1 IWF 350x250x9x14, the main beam 2 IWF 300x200x9x14, the column dimensions KC 450x200x9x14 (floors 1-3), KC 400x200x8x13 (floors 4-5), and KC 350x175x7x11 (elevator columns). Floor slabs are 12 cm thick and 10 cm thick for roofing plates. The SRMF joint design uses a high-quality bolt (A325) with the quality of the BJ41 joint plate and the planning results meet the requirements.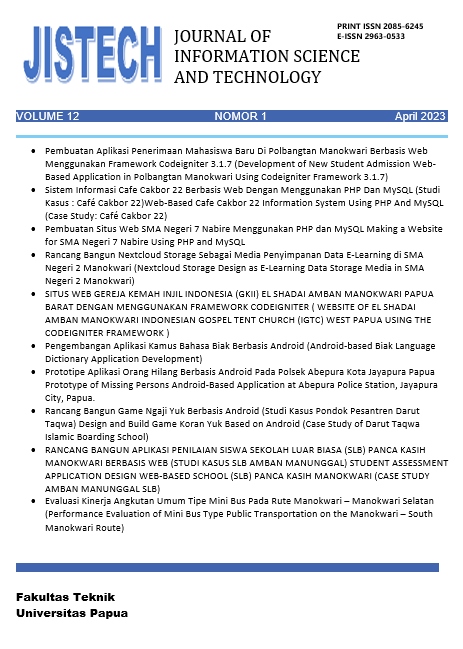 Downloads
How to Cite
Anjani, P. A. ., Bakri, R. ., & Tethool, Y. C. V. . (2023). Structure Design Modification of DPW Nasdem Office Building using Steel Special Moment Resisting Frame: Modifikasi Perencanaan Struktur Gedung Kantor DPW Nasdem Menggunakan Struktur Baja Dengan Sistem Rangka Pemikul Momen Khusus. JISTECH: Journal of Information Science and Technology, 12(1), 130-142. https://doi.org/10.30862/jistech.v12i1.206
License
Copyright (c) 2023 Putri Aru Anjani, Radinal Bakri, Yoga C. V. Tethool
This work is licensed under a Creative Commons Attribution 4.0 International License.