Analysis of Energy Losses in Medium Voltage Network Conductors Based on Load Curves at PT. PLN (Persero) UP3 Manokwari Area
Analisa Losses Energy Pada Konduktor Jaringan Tegangan Menengah Berbasis Kurva Beban PT. PLN (Persero) UP3 Area Manokwari
Keywords:
Energy losses, Kurva beban, Beban puncak, Jaringan Tegangan Menengah, Penyulang Melati
Abstract
The quality of electricity includes several things, including continuity of distribution, length of blackout time, voltage stability. One of the causes of declining electricity quality is the shrinkage that occurs in the electric power network, network losses cannot be avoided but can be minimized by shortening the network, performing maintenance and maneuvering the load. Energy losses in the electrical system come from the power generation, transmission and distribution system. In the transmission system, energy losses can be minimized by increasing the transmission voltage to high and extra high voltage levels. The load curve is a curve in a time range which shows the value of electrical energy use and load for a feeder so that PT. PLN (Persero) UP3 Manokwari can estimate power requirements. Expense curves can be divided into three types, namely daily curves, monthly curves and annual curves. Research throughout October 2021 used quantitative methods in processing data and calculating losses so that the power loss was 2.0070% and the energy loss was 1.9847%. This loss is still far below the state electricity company standard D3.002-2 (2008) in range of 5% to 10%.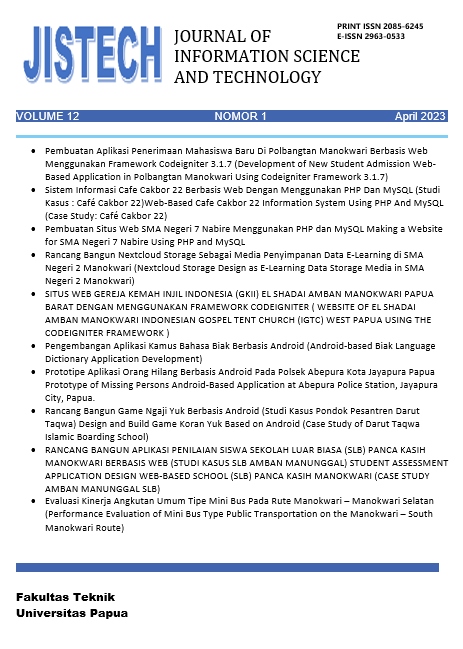 Downloads
How to Cite
Podajow, H. R. ., Rehiara, A. B. ., & Stepanus, J. B. . (2023). Analysis of Energy Losses in Medium Voltage Network Conductors Based on Load Curves at PT. PLN (Persero) UP3 Manokwari Area: Analisa Losses Energy Pada Konduktor Jaringan Tegangan Menengah Berbasis Kurva Beban PT. PLN (Persero) UP3 Area Manokwari. JISTECH: Journal of Information Science and Technology, 12(1), 166-174. https://doi.org/10.30862/jistech.v12i1.210
License
Copyright (c) 2023 Herybertus Rivanaldi Podajow, Adelhard Beni Rehiara, Jamius Bin Stepanus
This work is licensed under a Creative Commons Attribution 4.0 International License.