Learning and Playing Applications for early Childhood Using Kodular
Aplikasi Belajar Dan Bermain Untuk Anak Usia Dini Menggunakan Kodular
Keywords:
Kodular, Android, Waterfall, Aplikasi Belajar Dan Bermain, Usia Dini
Abstract
Usia dini merupakan masa keemasan dalam perkembangan otak anak, dimana pada usia ini anak-anak senang bermain dan menjelajahi lingkungan sekitar. Terdapat tiga gaya belajar pada anak yaitu auditori, visual dan kinestetik. Hal inilah yang dapat dimanfaatkan dari penggunaan smartphone karena dapat menyediakan aplikasi-aplikasi yang dapat menerapkan gaya belajar yang telah disebutkan. Dengan Tujuan untuk menciptakan media belajar dan bermain yang menarik untuk anak usia dini, dan juga sebagai suatu upaya untuk meningkatkan minat belajar anak sejak dini. Penulis melakukan penelitian dengan metode waterfall dalam pengembangan aplikasi belajar dan bermain dengan kodular. Penelitian ini menghasilkan sebuah aplikasi yang dapat digunakan untuk belajar mengenal huruf, mengenal angka, menggambar, bermain tangkap buah, dan tebak gambar. Hasil pengujian aplikasi dengan metode kuesioner yang terdiri dari 8 pernyataan dan 20 responden yang menjawab sangat setuju 37.5%, setuju 60%, dan kurang setuju 2.5%.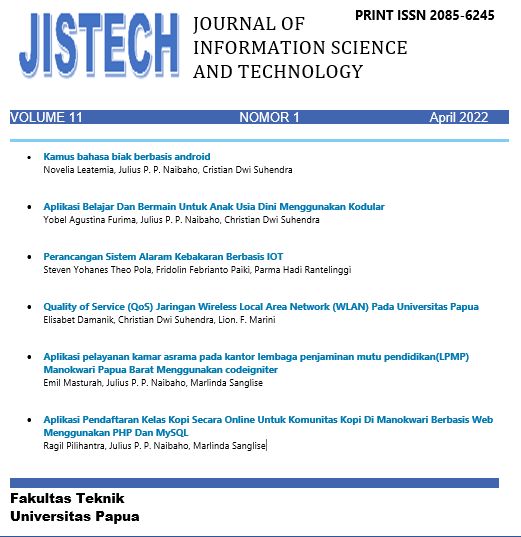 Downloads
How to Cite
Furima, Y. A., Naibaho, J. P. P., & Suhendra, C. D. (2023). Learning and Playing Applications for early Childhood Using Kodular: Aplikasi Belajar Dan Bermain Untuk Anak Usia Dini Menggunakan Kodular. JISTECH: Journal of Information Science and Technology, 11(1), 47-58. Retrieved from https://jurnal.unipa.ac.id/index.php/istech/article/view/63
License
Copyright (c) 2022 ISTECH: Journal of Information Science and Technology
This work is licensed under a Creative Commons Attribution 4.0 International License.