Online Coffee Class Registration Application For Coffee Community In Manokwari Web-Based Using PHP And MySQL
Aplikasi Pendaftaran Kelas Kopi Secara Online Untuk Komunitas Kopi Di Manokwari Berbasis Web Menggunakan PHP Dan MySQL
Abstract
The data management system in the Manokwari Coffee Community which is still manually becomes a reference for the creation of a title that can be submitted to lecturers. Data management is done by recording data from participants who want to take coffee classes from various places in Manokwari, as well as storing participant data in a book or paper and transferring it to Microsoft Word which still looks messy. In addition, data that is recorded and stored in books or paper is prone to being scattered or lost. As a consequence, members of the community find it difficult to find scattered or lost participant data. To overcome this problem, it is necessary to design a web -based online coffee class registration application to assist members of this community in managing participant data, the registration process, providing information about the classes held, and confirming registered participants. The author analyzes and designs applications that will be built using the Waterfall method. Furthermore, the application is built using the PHP programming language and Mysql Database Management System. With this application, the process of managing and storing data from participants who want to register for coffee classes at the Manokwari Coffee.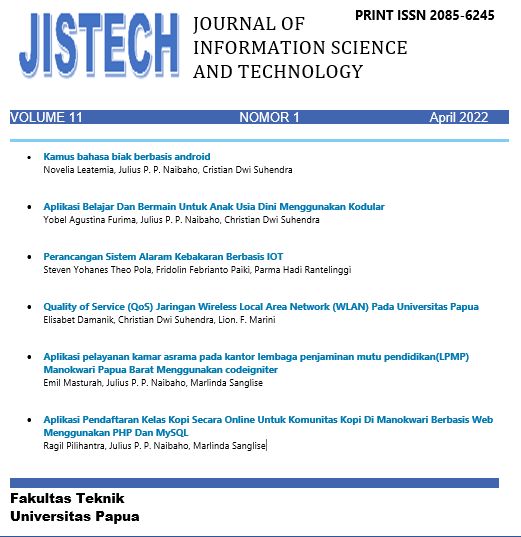 Downloads
How to Cite
Pilihantra, R., Naibaho, J. P. P., & Sanglise, M. (2023). Online Coffee Class Registration Application For Coffee Community In Manokwari Web-Based Using PHP And MySQL: Aplikasi Pendaftaran Kelas Kopi Secara Online Untuk Komunitas Kopi Di Manokwari Berbasis Web Menggunakan PHP Dan MySQL. JISTECH: Journal of Information Science and Technology, 11(1), 23-40. https://doi.org/10.30862/jistech.v11i1.71
License
Copyright (c) 2022 ISTECH: Journal of Information Science and Technology
This work is licensed under a Creative Commons Attribution 4.0 International License.