The Influence of Human Resources Aspects on Worker Performance in Construction Companies in Manokwari Regency
Pengaruh Aspek-aspek Sumber Daya Manusia Terhadap Kinerja Pekerja Pada Perusahaan Konstruksi Di Kabupaten Manokwari
Keywords:
Sumber daya manusia, Kinerja, Perusahaan Konstruksi
Abstract
Manokwari Regency continues to experience progress in construction development carried out by the government, where those who identify changes in construction are the construction of office buildings, hotels, shopping centers and other infrastructure.  An important factor in supporting the successful development of the construction industry is the available resources, such as models, people, equipment, methods, materials used and information.  Human resources are the main factor that determines the success or success of a construction company.  The purpose of this study was conducted to find out how the influence of human resource aspects on improving the performance of workers in construction companies, and what aspects most influence the performance of workers in construction companies. Based on the results of the analysis that has been carried out, that the results of the multiple correlation analysis show that aspects of human resources such as competence, motivation, loyalty, and work discipline have a strong and very strong influence on the performance of workers in construction companies. These aspects are competence of 0.675, motivation of 0.799, loyalty of 0.717, and work discipline of 0.959, and these four aspects contribute 69.5% to the total influence of the construction company's performance.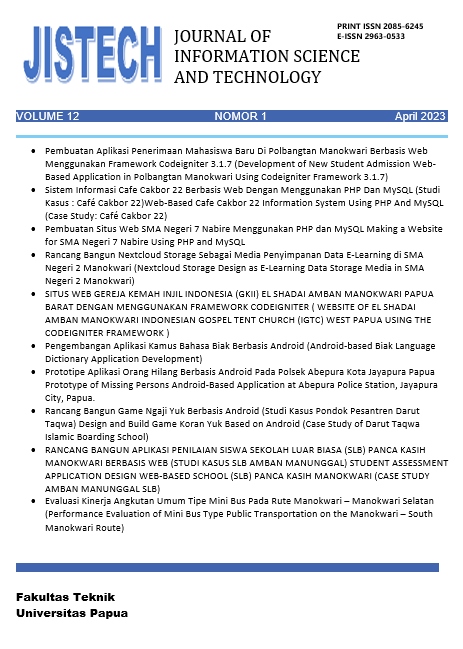 Downloads
How to Cite
Kolyaan, L. E. F. ., Birawaputra, I. ., & Lantang, E. T. . (2023). The Influence of Human Resources Aspects on Worker Performance in Construction Companies in Manokwari Regency: Pengaruh Aspek-aspek Sumber Daya Manusia Terhadap Kinerja Pekerja Pada Perusahaan Konstruksi Di Kabupaten Manokwari. JISTECH: Journal of Information Science and Technology, 12(1), 158-165. https://doi.org/10.30862/jistech.v12i1.209
License
Copyright (c) 2023 Lilian Ester Febynanda Kolyaan, Indra Birawaputra, Evayanti Tirtania Lantang
This work is licensed under a Creative Commons Attribution 4.0 International License.